Fellowship & Prayer Group - February 9, 2021
This year, PFP has added another educational scholarship for a young woman. Stella, age 16, had already lost her father when she suddenly lost her mother to covid-19 late last year.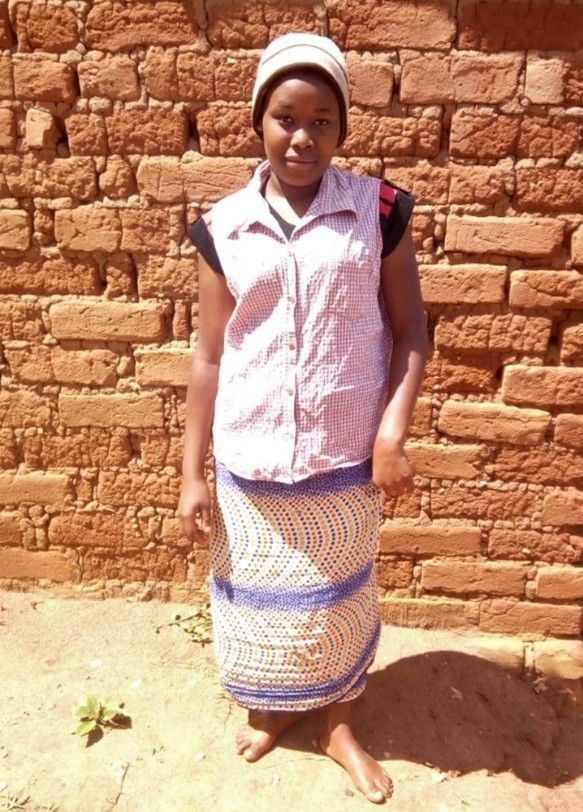 Her mother was a member of our Mbonokye Women's Group in Mbooni and we are partnering with them with an educational scholarship to help Stella stay in school.
If you would like to contribute to Path From Poverty's educational fund, please talk to Kim. We support the secondary education of two girls and our RPMs support two. This year Faith has graduated, making room for Stella. May this ease some of her difficulties, and let us remember her in prayer as she starts her new school year, with Agnes' dedication and support. 
Praying for the seven new Women's Groups starting in 2021: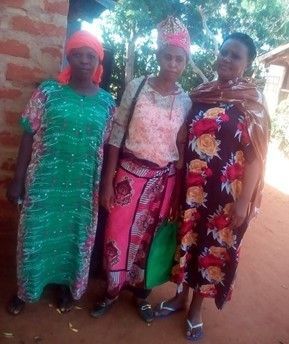 1.MALILI : UKA NUKE Women's Group – this group has already saved up money for 2 tanks by selling ropes and hand-made gravel
2.MBOONI CLUSTER : NEEMA – this group of 25 members has been trained in event planning and programming, hoping to generate income that is not based on rainfall.
3.KIBWEZI CLUSTER: JOY WOMEN's GROUP – every group has a chairlady, secretary and treasurer to co-manage leadership of the group – Pictured here are the leaders of Joy Women's Group.
4.KILOME CLUSTER : MIUMBUNI – this is our newest group, still training their leaders
5.MAKUENI CLUSTER : KALELO PAMOJA and WIKWATYO WA YITHUNGU and KITHUKI ADULT EDUCATION Women's Groups – our newest Cluster has grown from 3 to 6 groups, for which we give thanks and praise.
Additional prayer requests from our RPMs:
Monicah (Tulimani) – in this area, heavy rain has already given way to unseasonable heat, and vegetable farmers are struggling, as well as markets being slow. They request prayers for the upcoming harvest season and that there will not be bad locust swarms this year. The government has already started spraying some areas for locusts.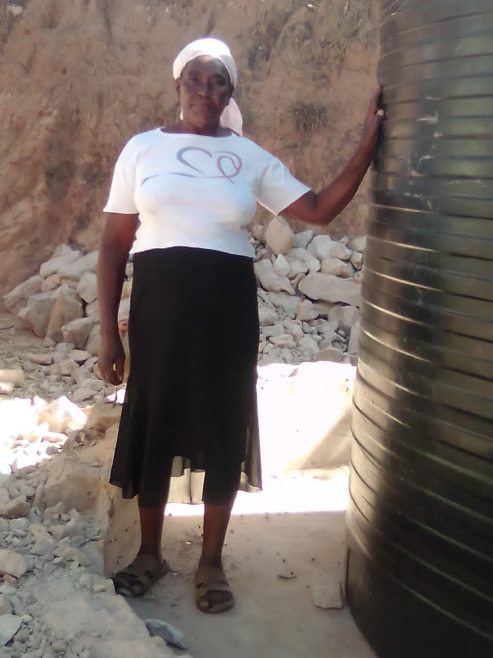 Elizabeth (Kola) – Kola has not received a gift tank for some time, and we are thrilled that Rose (pictured) received a January 2021 gift tank. Rose is a 45 year old grandmother who feeds her family by farming. She weaves baskets to generate income, and has saved money in her PFP group since 2017 to get a tank.
She looks forward to planting more vegetables with any extra water, and is very thankful for Path From Poverty.
Susan (Kilome) – Kilome continues to have water and food shortages, and several illnesses in the groups. Lydia continues to be sick, and the group near her is trying to get her medical treatment, and are bringing her clothes.
Betrace (Kibwezi) – this dry area continues to suffer without enough rain – for example, one group that has raised money by selling seeds and small plants is having to rethink income generation. We also continue to pray for Betrace's bereaved family.  
Agnes (Mbooni) – Having added 2 new groups to the 11 already in her cluster, this oldest cluster with PFP is being divided into two – Lower and Upper Mbooni, a process that includes all members input and careful leadership from Agnes, for which she asks for prayer. "They request Peace, Love and Unity among all members."
Other Praise and Prayer:
We are very thankful for a special gift from Cascade Lumber that will buy 4 new gift tanks for the most needy
While there was a big spike in confirmed covid-19 cases in Kenya at the end of the 2020, there has been a drop this month to pre-spike levels
For our volunteers – Maria, one of our guest writers, who has to find a new job, and our research students, Saisahana and Aditi as they start their new semesters at university
The challenge of ongoing funding – we are already preparing for Walk for Water 2021, "10,000 Steps for Water," to be held May 15 – prayers are needed for this to be even bigger than previous years
Fellowship & Prayer Group, Kenya Update, Jan 12, 2021
Elizabeth (Kola) – one group didn't finish targets this year, so please pray for them, and Elizabeth requested prayers for all those not feeling well. Still in December, she is requesting prayer for her groups for health and recovery, especially one chairlady that has been ill. Her daughter Gloria remains detained in Saudi Arabia, but is well, at least.  
Monicah (Tulimani) – several groups had bad harvests because of heavy rain and "The year was not easy for us, due to the pandemic." The rain has lifted a little, so give praise that some things are growing. "Businesses have not yet picked up, but God's grace is sufficient. Whatever we get, we share with others."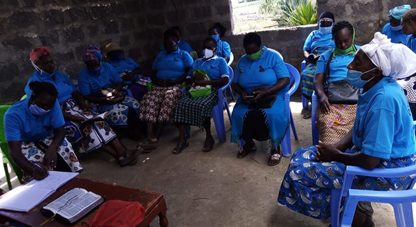 Agnes (Mbooni) –After struggling, by October all targets had been made, by God's grace. The rains have been good, and the leadership came together at the end of the year in a Thanksgiving celebration, "The team spirit here is overwhelming. Let's all smile, not because we don't have problems, but because we are stronger than the challenges or problems we face." 
This is Tei wa Malili, a group that broke rocks into gravel together and sold two truckloads worth for 60,000 ksh, which bought them one tank. Here they have a thanksgiving celebration together at the end of 2020.  
As RPM Sue says "Pray for members and the whole country to be able to put food on the table."  
Praises and Prayer - June 2020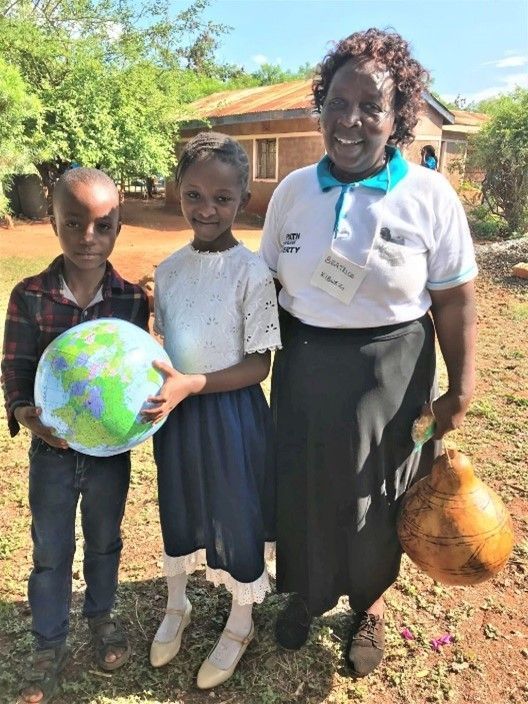 Food Shortages and Price Gouging in Kenya due to Covid-19 
Thank you for your ongoing prayers for the women in Kenya, as Covid-19 is affecting them greatly!
We thank God they have no virus cases in their Makueni county yet, but infection rates continue to climb in other areas, and Kenya is facing severe food shortages.  Locusts also continue to ravage the countryside in other areas, and food suppliers have been blocked by police. A strict 'dusk till dawn' curfew has seriously disrupted the movement of food to the point that officials report Kenya's food reserves will be exhausted within two months. (Source: KTN News Kenya, April 28. 2020).
Path From Poverty's partners in rural south-eastern Kenya are struggling in this hardship. "Women are affected most in these situations," says regional leader Agnes. They are responsible to supply food for the home, and police are beating and imprisoning those with improper masks, so women struggle just to go to the market. Food is scarce, or over-priced by 3-4 times normal price, at a time when nearly all casual or cash work has stopped.  The women have also not been able to go to market to sell their income generating goods.
We are thankful PFP's seven Regional Program Managers (RPM's) heard the pleas from their grass-roots women's groups.  Some "emergency hunger relief" funds were donated so the RPM's can purchase cereal and grains wholesale and deliver these necessities to those in most dire need.  This one-time donation can get them through to the next harvest. 
Please pray for smooth distribution of the food and God's continued provision and protection for the women there.
Abuse, Food Insecurity, and Other Effects of Covid-19 & No Rain
Agnes, the Regional Program Manager (RPM) in the Mbooni region asks for our prayers:  "Please pray for our women.  The situation is becoming worse.  Most of them are beaten by their husbands and chased away.  The reason is because they have many children, and right now, the husband is jobless." 
"Please, please let's all pray and God will see us through."   Also pray for group members to meet their financial targets for 2020 and for rain!" 
Also, Regina Mbaluku, the RPM of the Malili region shared:  "The challenges in our gardens is that the crops dried up due to lack of rain so many members don't have food.  They're not selling their income generating products well, they're selling only a small amount.  There is no casual work which uplifts the women in making their targets."
"I also visited some orphan children near my home, who stay with their grandparents (5 of them). They had no food.  I bought them flour, rice, oil, soap, and beans which cost me 4,000 Ksh (($40) and for a sick woman bought her soap and porridge flour."
"Let us keep on praying for one another so we don't get that dangerous disease."
Girls Not in School At Greater Risk
Schools have been closed since March in Kenya due to Covid-19, so the students who are usually in boarding school are at home in their villages.
Pray for the school girls, especially in the rural areas, who are at home having to walk to collect water, and are now at higher risk for attack and teenage pregnancies.
Virtual Walk for Water Goal of $45,000 Surpassed- a Success!
Praise God for the success of the virtual Walk For Water as we "Walked Together, Apart, Across the World"- May 9th.   Even though we redesigned this year's walk to be virtual, due to Covid-19,      we were able to pull together and surpass our goal of $45,000!  
Agnes said, "May God bless you for the good work toward women in Kenya.  We salute you sisters."
We are so thankful for everyone pulling together and making the reality of CLEAN WATER FOR KENYA a bit closer!
Harambee - October 17 "Empowering Women Who Walk for Water"   
The upcoming 20th year Harambee event will be held on October 17, 2020.  The theme will be "A Day in the Life: Empowering Women Who Walk for Water."
Please pray for all the planning and preparation which is underway.
If you are interested in helping out either on the day of the event or in preparation, please contact kathryn@pathfrompoverty.org
Continue to pray for Gloria's Release from Prison in Saudi Arabia
Please continue to pray for Gloria, daughter of Elizabeth (RPM from the Kola region) who went to Saudi Arabia to work as a nanny and housekeeper, then was imprisoned there for unknown reasons.
Thank God that Elizabeth has been in regular contact with her, and although Gloria is still not home, Elizabeth is sure she is safe.
We also thank God that a Kenyan lawyer from Nairobi (who has helped the RPM's before) is working on Gloria's release and return.  Please continue to pray that those efforts will be successful and that she will be safely returned home as soon as possible.
Continue to Pray for Complete healing for Sumpton (Kenya Work Team driver)
Please continue to pray for Sumpton's restored health, our excellent faithful Kenyan driver who takes such good care of the PFP work team every time they go to Kenya.
An injury to his left shoulder caused a pulled muscle, which caused nerve damage.  He had little use of his left hand and shoulder, has been seeing a neurologist, is on medication, and going to P.T.
Pray for his complete healing and also for his financial situation during this time of Covid-19 as P.T. is very expensive and his livelihood depends on tourism, which is being affected by the pandemic.
---
Join us in prayer as we work to serve the vulnerable women and children of Kenya. 
We value your prayers for those in need, and our staff as we walk alongside women and girls on their path out of poverty into a life full of hope, opportunity, and dignity.
By joining our Prayer Team, you will receive a monthly email that includes praises, guided prayer points for urgent requests and photos of our recent water tank and solar panel recipients.  
Thank you for joining the Path From Poverty Prayer Team. 
Monthly Prayer Newsletter Sign Up