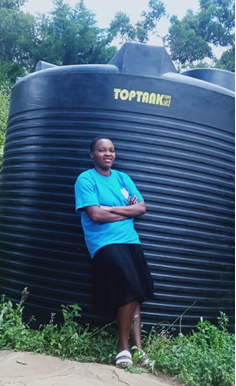 Poverty acts as a heavy blanket, shutting out all light, and leaving those affected seeing only shadows of a dark, hollow future. In villages in rural Kenya, women are working hard to light a torch in this darkness and provide themselves and their families with better futures. Water, electricity, and security are privileges they can not take for granted. Through organizing fundraising events and collecting individual donations, Path From Poverty provides such women and their families with necessary resources, such as water catchment tanks and solar panels, which work to enhance their quality of life and help them rise to their full potential. In the last couple months, Path From Poverty has helped transform many lives, including the following women and their families. 
Without access to running water, many women in rural Kenya need to take a long, hazardous journey to reach distant, sometimes contaminated water holes, where they regularly run the risk of being raped or kidnapped.
Access to this seemingly necessary resource opens up countless opportunities and casts a positive social impact on the families of these women. After receiving a water catchment tank, Joyce sheds tears of joy. She exclaims "May God bless all donors who are caring about our life!". Similarly, Brenda expresses delight in not only no longer needing to walk 6 kilometers to get drinking water for her family but also being able to better protect her two children from her abusive, drunk husband. For Janet and her family, it was simply a dream come true.
Others, such as Josephine and Ngondu, use their catchment tank to enlarge their nurseries and grow fruits and vegetables at home. Striving to improve their economic status, these women are empowered to become independent and launch their own small businesses.
For many women, such as Agnes, with this gift of a solar panel, comes the important gift of security. Harnessing the power of this light, Agnes now has the freedom to access water during the night, to allow her daughters to study when it is dark, and to protect her home and family. In order to share her joy with others, she is determined to work hard until all the women in her group receive a solar panel.
For the last 20 years, Path from Poverty has effectively helped to create powerful ecosystems, promoting environments where women uplift each other. By providing leadership training to young girls, they are given the opportunity to become economically independent and form better futures for themselves. 
Path from Poverty is working to further expand its impact and help more women, throughout the Ukambani region of Kenya, access the resources which would allow them to escape the cycle of poverty.