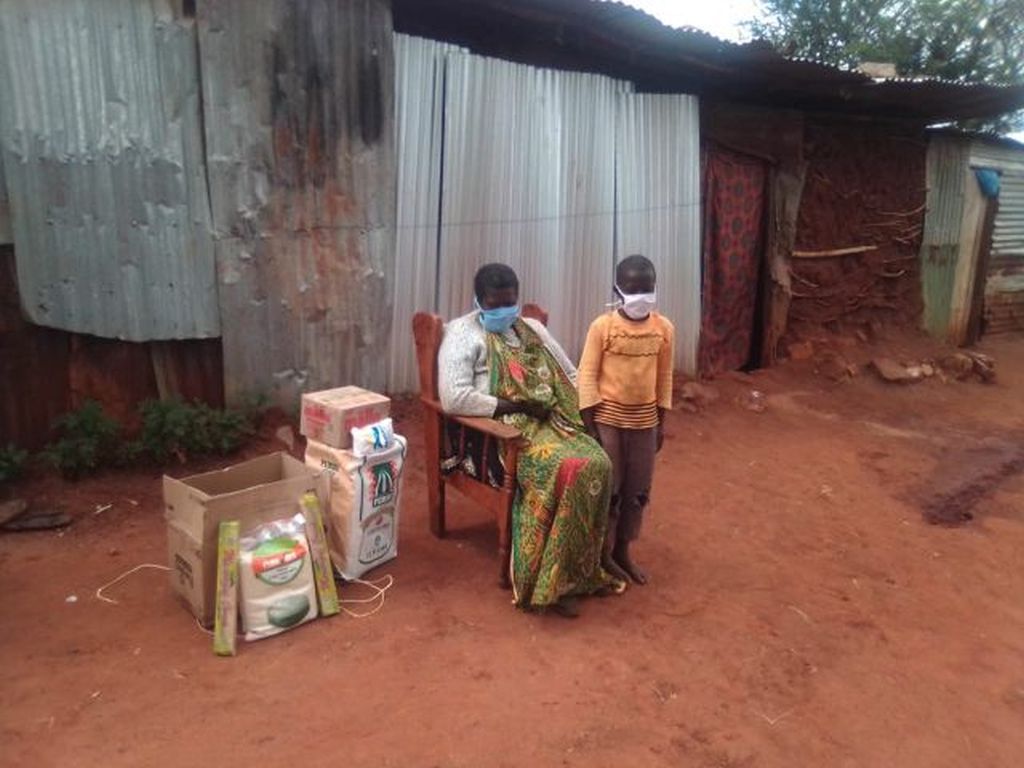 In the United States, people are commended for taking care of thy neighbor as if it was something to be commended for and not simply honored as a common value that we hold and practice everyday as a people. However, for Agnes Kioko, Susan Musyoka, Monica Muthoka, Regina Mbaluku, Betrace Maundu, Susan Musembi, and Elizabeth Mutinda Nzyuko of rural Kenya, community is a way of life. When COVID-19 struck the world, the most vulnerable communities (those who suffer from food insecurity, extreme poverty, single parenthood, illness with no healthcare etc.) in every country in the world were the ones who suffered the most; and the Ukambani Regions of Kenya were no different.
As leaders in their communities, this phenomenal group of women (called Regional Project Managers, or RPMs) rallied together and wrote a proposal to raise money, with the help of Path From Poverty, to bring food to the most vulnerable people of the Ukambani Regions and so help to revive their local economy that's been devastated by COVID-19.
The proposal, however, was not just a blanket call for funds. These RPMs came together and wrote a plan that detailed a food collection and distribution plan that would bring cereals and grains to around 1,200 Kenyan women and children in their regions. And with the help of Path From Poverty, the goal for raising $3,200 to meet these needs was accomplished in a matter of days. And while it may be difficult to comprehend the idea of $3,200 tackling severe food insecurity for 1,200 people, it's proof not of the potential of money, but the immense potential of women. 
In the renowned book Half the Sky by Nicholas D. Kristof and Sheryl WuDunn, they write extensively on this potential. A quote: "Women's empowerment helps raise economic productivity and reduce infant mortality. It contributes to improved health and nutrition. It increases the chances of education for the next generation."
I cannot think of a more apt quote to describe this group of Kenyan woman than this. And while Path From Poverty has been essential in fostering opportunities for education, self-sustainability, and economic growth, it is these women, the RPMs, who've taken these opportunities and run with them, run far and hard to those most in need of help.
Eunice Muendo from the Kwijyumya Women's Group Mbooni Cluster was one of those women. She is a widow and the mother of 7 children who've all tragically passed. She now lives with one grandchild. She has been paralyzed for almost a year and her Regional Project Manager, Agnes, has been helping her to meet her basic needs. When she received food from the food proposal, she said, "God has surely moved me from shame to fame, insults to results, sorry to glory and disgrace to grace." It is food and hope, possibility and love that was given to her in the delivery of this food. And it was in the heart of the words and intent of this food proposal that has given Eunice a chance to feel as strong and beautiful as she is.
Many more women and their families have sent words of great thanks and smiles through great hardship upon receiving this food. And for something as seemingly simple as food, it gives every bit of it purpose. It is because of the Regional Program Mangers, the women leaders of rural Kenya, that allow for their communities the chance to rise. They are strong, they are leaders, they are women, and mothers, and sisters, and community members. And again to quote author's Kristof and WuDunn, Path From Poverty is empowering these Kenyan women to "…[unlock their] power as economic catalysts. [That] is the process underway- not a drama of victimization but of empowerment."