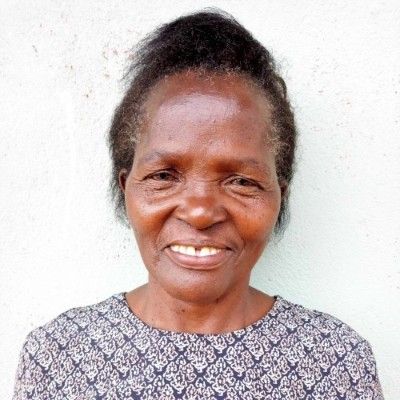 Conversation with Susan
Updated on January 25, 2021
Susan explained to me that she is working with six PFP groups – a total of 91 women (Kilome Cluster).  She expects to have an additional two groups shortly, bringing her total group of women to 100.  She meets monthly with each group.  She can personally visit by walking a short way with two of her groups; the others she visits via motorbike, nearly 4 miles away (6 km).  The groups talk often by telephone.
Susan has been working with Path from Poverty since 2002 and in that time, she has seen significant changes in her community.  She started with three groups.  With the first tank, the women became much calmer – they did not have to walk for water as often.  Soon, however, they discovered that they did not have enough water to manage during the drought season (July-October). 
Women told their group leaders that with an additional tank they could plant their own vegetables and have a kitchen garden rather than buying vegetables at the market, which are expensive.
Women are responsible for taking care of the household, gathering firewood; caring for the children and the animals, cooking, cleaning and walking for water when needed.  The bore holes for water are a long way away and often the women can carry only a small container and it takes precious time these women could be tending their garden or doing other household chores.
Since the arrival of the water tanks, house construction has changed substantially.  Rather than grass thatched roofs, they now have metal sheets so that no water is wasted.  Water is captured in smaller containers and dammed ditches which is fed to animals or used for gardens before it evaporates.
With the arrival of water tanks, families' hygiene has improved substantially; they have water to wash themselves and their clothes – incidents of diarrhea and malaria are rare.  It is very unusual that a child cannot attend school because of illness.
Family planning has also improved since the arrival of the water tanks.  In earlier years, women would have seven or eight children.  Now most families have two or three.  As women develop their small businesses and earn income for their families, they are not as interested in having a huge family.  Their efforts are spent improving their family's standard of living rather than caring for seven or eight children- and the standard of living of the children is much better as well.
Some men in the community are very supportive of the women's entrepreneurial efforts; but most are not.  Over the years, men have succumbed to alcohol and other drugs.  Men are supposed to build the house and the women care for the family, children and animals.  Men do not help in the kitchen.
Each group in Kenya has its own culture and the culture is changing in some areas.  I told Susan about our term "house husband" when men care for the children and the domestic chores in the US and the women support the family financially.  She thought that was very odd!
As men and women are more educated in Kenya, they are starting to share the domestic activities, but this is still not happening in the rural areas.
It is required that all children attend school in Kenya – the government pays for the school.  However, local communities pay for additional teachers and supplies as often there are not enough teachers provided.
Since the program started, some families have received a 6,000 liter (1585 gallons) tank and a 10,000 liter (2642 gallons) tank and one solar panel.  Other families are waiting for their first tank.
Because the drought period is so long, it would be helpful if each family had two – 10,000 liter tanks plus the 6,000 liter tank.  Buying water during the drought is extremely expensive which precludes spending money on animals, supplies for their entrepreneurial businesses, etc.  When it rains all the tanks are full and the village tries to collect as much additional water as possible.