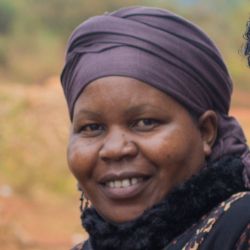 January 27, 2021
Agnes has been with PFP since 2004.  She has 14 groups.  She says that they are receiving gift 10 tanks per month from PFP and her prayer is that every family has 2 tanks and a solar panel.  She visits her groups monthly.  The closest bore hole for water is 2.5 miles (4km), the farthest is 8 miles (13km).
"If we have a neighbor that does not have a tank, we must share the water; we must help others until everyone has a tank."
Women raise cows, goats, and sheep mainly for manure for their gardens and for milk for the children. 
Girls in families without tanks must drop out of school because they must walk for water with their mothers.  Girls in families with tanks can attend school.  Children go from the 1st to 8th grade, then move on to "upper" school for 4 years.  Very few children attend University (she knew of two). 
There is violence and often rape when girls walk to school by themselves, so girls do not want to attend school.  Girls often will not tell their mothers if they have been raped.  Mothers with tanks have time to escort their girls to school and home again.  Fathers are not trustworthy and often rape their own daughters.
Before Agnes became a leader at PFP and received the training, she was very shy.  She would not talk with other women when they were washing clothes, meeting informally or even praying.  She was not comfortable with other people – she felt "negative" in those circumstances.
She is much more self-confident now that she has been trained.  She is not fearful of talking with anyone or even a group of people.  She is respected in her community because she has been trained and has better communication skills.  People see her as part of PFP and the good work PFP is doing in the community.
There are lots of women who want to be trained.  We are training others all the time.  When women are trained and they get a tank, they are respected by their husbands and by the community.  The community sees the tank and automatically changes its opinion of the woman.  They are no longer mocked.
When I train women, I tell them that it is their right to talk; to talk with their husbands; to their children; to others in the community.  I tell them to get away from the "negativity" and don't shut down.  They tell me that I really help them.
Women with tanks have no disease in their family.  The old problems have gone away.