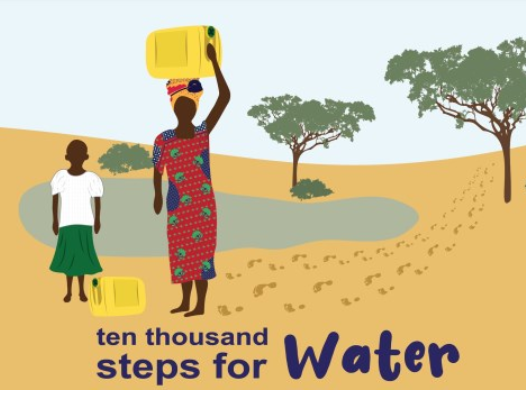 Dear Friends,
With your generous support, Path From Poverty raised over $108,000 with our 2021 Walk for Water "Ten Thousand Steps" spring fundraiser. We are delighted to announce this is twice as much as raised last year, which was at the time the most PFP had ever raised with our Walk campaign! That this was done virtually, with COVID lock-down challenges, these last two years is amazing! 
Thank you. Your donations helped create this tremendous success and made a difference.
Hopefully, you will internalize the genuine gratitude that I, Kathryn (my only staff), our board, and the Kenyan leaders and the women in their groups, have for your generous support. You are impacting the lives of many Kenyan sisters and their families as we work to change the harsh reality of water inequity so they can stop "fetching" and using disease infested water just to survive. Thank you!
This year, weekly challenges leading up to the walk date helped participants get a better sense of how arduous the daily task of obtaining water is for Kenyan women. Several of you took on one or more. The reflections that folks shared about how engaging in the challenges spoke to the deeper understanding and connection they gained was appreciated. Here is an example of how touched one participant was:
"This morning I was taking a shower when suddenly I thought of women carrying water to their homes and considered how much I had used already. Guilt trip! After turning off the tap, strong images flooded my mind and emotions for the next hour. How heavy was the water carried on a Kenya woman's back for five miles to and from the river source? Was it clean and disease-free? Could I carry that heavy load? If so, would I have used it more sparingly? I paused...because the answers were difficult. That is why this campaign is important. It gives purpose and dignity to those women who walk for water daily. It reminds me to be more thoughtful in its usage and appreciate what is delivered daily by my local water system." - Joy L.
Once again, thank you for supporting Path From Poverty as we continue working to fulfill this mission of hope. We could not do it without you!
Sincerely,
Kim McKoy, Executive Director