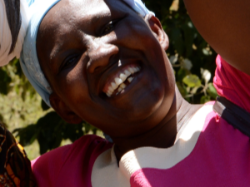 Eunice
Eunice is 52 years old and married with 5 children.  Her husband doesn't work.   She joined the Path From Poverty Ngandani W Group so that she will eventually get a water catchment tank.  Each month she earns the money to pay her assessed target by selling vegetables such as cabbage, tomatoes and Sukuma, which is a kale-like vegetable to her neighbors. 
A water tank will save her time each day and make her and her family healthier.  She currently walks for up to 2 hours each day to get water.  Some days her daughters help her.  During part of the year she collects water from a dam.  This water has lots of silt and dirt in it.  During other times of the year she fetches water from wells and streams.  The water often carries diseases like typhoid and brucellosis.  It often causes diarrhea.  
Support Eunice on her journey out of poverty.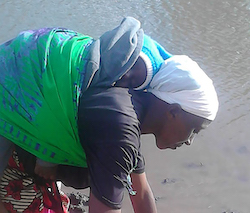 Elizabeth
Elizabeth is 49 years old.  She is the mother of 7 children and she has one grandchild.  She is married but her husband does not work.  She joined the PFP Tei Wa Malili group in 2017.  She earns the money to pay her target by doing several different jobs.  She crushes rocks and sells the gravel which is used for construction projects and roads.  She also tends a few chickens and goats.  She will also fetch water for others.  Elizabeth is always busy and very hard working.
Support Elizabeth on her path from poverty!