Learning to Lead
Written by Caleb Mutua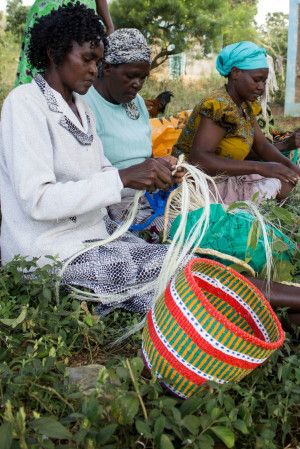 Meet Stella Kimeu, a 47-year-old widow and a mother of five who has earned respect and admiration from her church and community for her exemplary leadership qualities. Mrs. Kimeu is a farmer and the chairlady of Itulu Women's Group under Path From Poverty program. Though slightly-built, Kimeu has proven to be a strong woman of faith, a decisive leader and a tough mother. She has served her group of 30 women for five years now. In that duration, they managed to save money together to purchase 22 plastic water tanks and received four more tanks as gifts of appreciation from Path From Poverty for their hard work.
Kimeu completed her primary school education in 1984. Her poor parents could not afford to take her to secondary school. Instead, she joined a local middle-level college for a two-year course in dressmaking. She later got married and started a tailoring kiosk in her village. "I lost my husband through a grisly road accident and that's when my life changed. Shortly after his death, my sewing machine broke down. I turned to farming to raise my three boys and two beautiful girls," Kimeu opened up.
Persistent droughts and poor farm yields made things difficult for Kimeu and her family. Every evening after school, her children walked six kilometers to the nearest river to fetch water and that affected their performance in school. When Kimeu learned about other Path From Poverty groups and how women's lives were being transformed, she mobilized her neighbors and after months of orientation and training, they started their own group in 2011. "When we started, I never expected the women to appoint me as their leader. I almost turned down their request because I honestly felt inferior. I was a widow struggling to feed my children and I couldn't understand why they chose me considering we had happily married women in the group, with better education and income," Kimeu remembered with nostalgia.
She felt that the women chose her partly because of her leadership role in her local African Inland Church (AIC). After she lost her husband, she started counseling other widows in church. However, this role was not as demanding compared to leading a group of 30 women struggling to save their hard-earned money to buy a water tank. Stella says, "I have faced major challenges as a leader but I have always prayed to God for his guidance. My group has also been very supportive and encouraging. Villagers, including husbands of some of my members, walk up to me and shake my hand for a job well done. I have seen lives transform and I know for sure that we serve a living God through this work." Kimeu said that her leadership role has also given her strength to raise teenage boys without a father figure.  "Community leaders and head teachers speak highly of me and that has contributed to my teenage boys respecting me as a single parent."