Ibu Lasma's Story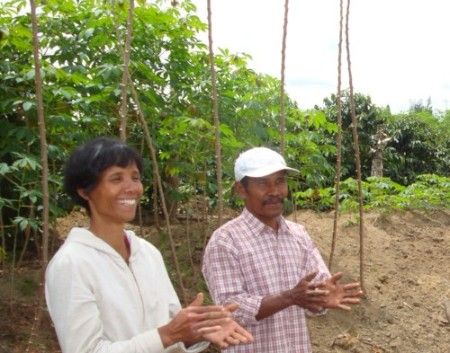 Ibu Lasma's life has changed dramatically since joining a Path From Poverty Women's Group in North Sumatra, Indonesia in 2007.   She and her two children were not able to survive on her husband's job as a taxi driver in the distant city, so Ibu Lasma was forced to make the difficult decision to move back to her home village and live with her parents. Her husband was not willing to move back so she and her children made the painful move without him.
At that time, Ibu Lasma's humble, 1 room, dirt floor house was far from a water source, so she walked long distances every day down to a ravine to get water for her small garden. "I used to have to walk almost two miles each way, up over hills, down into valleys" she recalls. Life was very difficult at this time but Ibu's Lasma's faith and love for her family kept her going. Upon her return to her home village, she learned about the good work Path From Poverty was doing locally to assist women on their path out of poverty.  She quickly joined the Las Roha Women's Group and received valuable training in pig breeding and a piglet! It wasn't long before she began breeding pigs for the sole purpose of income generation. She spoke with pride and gratitude to God, "I planted all these crops with my very own hands, and only the Lord Jesus by my side— through faith and prayer, that is what I practice in my life!"  Later, she went to the city and convinced her husband to move back and join the rest of the family. 
Over the past 8 years, Ibu Lasma has worked very hard at farming, planting vegetables, and now she is raising 6 pigs.  She uses the pig manure to make compost, so she doesn't need to buy expensive fertilizer.   With the profits she has made, she has been able to have a deep well dug near their home, so she no longer needs to walk down the ravine to get water for farming.  She now has clean water at her house and can grow more vegetables in her field to sell. 
Ibu Lasma has put her 2 children through high school, they both graduated and are now employed in another town. Her home now has a cement floor, she has added another room and a latrine with a squat toilet.  Ibu Lasma's story brings her family, community, and all of us hope and inspiration.