Path From Poverty's Indonesia Program—A Story of Success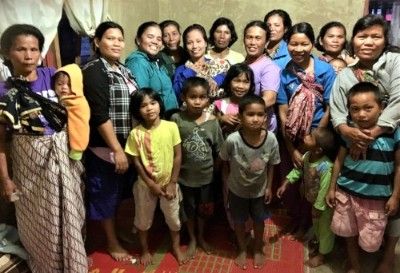 After 11 years of partnership with the women of North Sumatra, Indonesia, Path from Poverty has decided to discontinue the Indonesia Program in June 2019.  As a small organization, we have made a strategic decision to focus efforts on our work in Kenya where there are significant opportunities for program growth and replication.    We thank God for the significant milestones and success of the Indonesia program:  82 women have participated in six women's groups, with over 400 women and families impacted by the Path From Poverty program.
Going forward, our work is sustained by the women's peer learning and shared experience developed over the years.  The women have learned to raise pigs, which has provided an important supplement to their inconsistent incomes as subsistence farmers.  This has enabled them to better support their families and fund their children's education through high school and university.  Women have become more valued and respected in their communities, they have learned to make compost from the pig manure, which is now used in farming, and their children's nutrition has greatly improved - there is no longer marasmus (severe malnutrition) in their villages!
We are thankful for the leadership development that has taken place through the training given by Hotmaida Siahaan, Indonesia Program Director, and are very grateful for Hotmaida's wise, capable, and faithful leadership of this program these past 11 years.   Ibu Line has been the leader of the Dos Roha Women's Group for the past 10 years.  When the women's groups first started back in 2008, they went through two years of training in leadership, pig rearing, organic farming, gender equality, nutrition and bookkeeping.   Before Ibu Line received training from Path From Poverty, she had no experience as a leader.  She is now 60 years old, has six children and eight grandchildren, and is an energetic and influential leader/ trusted mentor, motivating and encouraging the 17 younger women in her group to work hard together.  Through her influence, the women in her group (all with young children) are being inspired and guided to work hard at pig rearing.  Ibu Line is very active, committed, faithful, and transparent with her group, and with her example, the group members are faithful and motivated.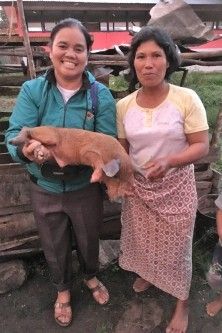 Ibu Line's diligence as a farmer and her success with raising pigs encourages the other women to work hard; she tells them, "Without raising pigs, we can never really generate enough income if we just do farming" [due to the fluctuation of market prices, etc.]   With pig rearing as well as farming, the extra income has enabled Ibu Line to put her six children through school (three through University and three through high school).   Her grown son has now returned home to live with her and has joined her in raising pigs.  She always motivates her group members to be committed to raising their pigs well; for their use as a "piggy bank" (savings account to save for school and other family expenses), and to use the manure as compost for fertilizing their gardens.   She is such an encouragement and inspiration to the other women, her group has become a 'model' for others.
Thank you to all our donors for your support of this important program over the years.  The women have gained strength, vision, and recognized new possibilities.  Through your support, we can celebrate what they have experienced these past years and look forward to how God is going to lead and sustain them in the future.  These Indonesian women will always be part of the Path From Poverty family and we hope you will keep them in your thoughts and prayers.   
"Please continue to pray for these women in Indonesia as they continue to courageously walk the path out of poverty.  God has blessed Path From Poverty by allowing us to participate in this work and we are truly thankful.  You made a huge difference in their lives by stepping into this work 11 years ago.  We have every confidence that they will continue to work together in a way that improves their lives.  Thank you!"  Boni Piper, Path From Poverty Board Chair