We value the commitment made by our supporters, volunteers, and donors – this is why over 80% of
Path From Poverty's revenue is directed towards program development, implementation, and support.
FY 2017-2018 Path From Poverty Annual Report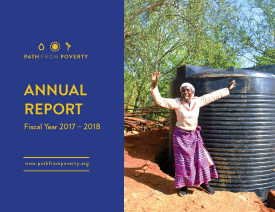 This year the Kenya Program grew to 8 regions, 48 groups and over 1,100 members. The women's small businesses continue to innovate and now include such diverse projects as tree nurseries, poultry farming, bee keeping, catering and cloth tie-dye. In fiscal year 2017-2018, program members accessed a total of 130 rainwater catchment tanks and 36 solar panel packs. Bringing clean, safe water or sustainable energy to over 1,300 children and adults. We also continued high school scholarship support to six orphaned or disadvantaged young women.
For fiscal year July 1, 2017 to June 30, 2018